A survey of public attitudes to gender non-conformity in Malawi
#CanonCollinsAlum Alan Msosa's PhD entitled Human Rights and Same-sex Intimacies in Malawi and his ongoing advocacy on LGBTQI+ rights issues, led to an invitation to participate in the development of the report Under Wraps: A survey of public attitudes to homosexuality and gender non-conformity in Malawi, which was launched in Lilongwe, Malawi on 21 November 2019. For the first time, it provided nationally representative data about the views and feelings of Malawians regarding human rights related to homosexual and bisexual women and men, and transgender and intersex people. Alan offers insights on what he describes as "some obvious and some surprising findings". 
"The report comes after nearly ten years since issues of homosexuality and related human rights emerged as the subject of contentious debate following the traditional wedding ceremony of Steven Monjeza and Tiwonge Chimbalanga, both legally recognised as male. It resulted in a dramatic court case that led to them being sentenced to 14 years for penal crimes 'against the order of nature' and an abrupt presidential pardon soon after.
The debate is dominated by calls for condemnation of homosexuality, and support for its criminalisation, with the claim that homosexuality is an abomination to the country's cultural and religious values. This is counteracted by calls from a minority group of stakeholders for social inclusion of LGBTQI+ people, as well as their human rights protection. The government has been indecisive inthe matter.

For example, in 2012, President Joyce Banda expressed in her inaugural state of the nation address, her intention to repeal anti-gay laws in the penal code. Following backlash from political and religious leaders, she retracted this proposition, settling instead on proposing a moratorium on the arrest of LGBTQI+ people. In 2015, incumbent President Peter Mutharika proposed a yes or no referendum on whether to legalise homosexuality, and soon after retracted his position. In 2017, government instructed the Malawi Human Rights Commission to conduct a national public inquiry into peoples' views on homosexuality in order to inform a government deliberation on the decriminalisation of anti-gay laws. This did not take place following widespread concerns about the process.
Despite the impasse, public rhetoric against homosexuality and related human rights remain dominated by two claims. Firstly, there is the claim that homosexuality does not really exist in Malawi, except for a few individuals who are morally corrupted by Western visitors. Secondly, those who are against homosexuality or LGBTQI+ rights claim to derive their mandate from 'the wishes of Malawians'.
The Under Wraps survey set out to answer these key questions, with obvious and surprising findings. We first clarified the terminology of human rights so that it resonated with local values familiar to everyday Malawian life. We drew from my article, Chilungamo and the question of LGBTQ+ Rights in Malawi to use the indigenous concepts of Chilungamo and uMunthu, describing principles of justice and humanity. In our view, this was a way to pre-empt misconceptions around English terminologies, which are often abused to misrepresent what human rights protection based on sexual orientation and gender identity entails. We also used locally appropriate descriptions of being lesbian, gay, transgender, queer or intersex to avoid terminology that is deliberately derogative and incites disgust or prejudice.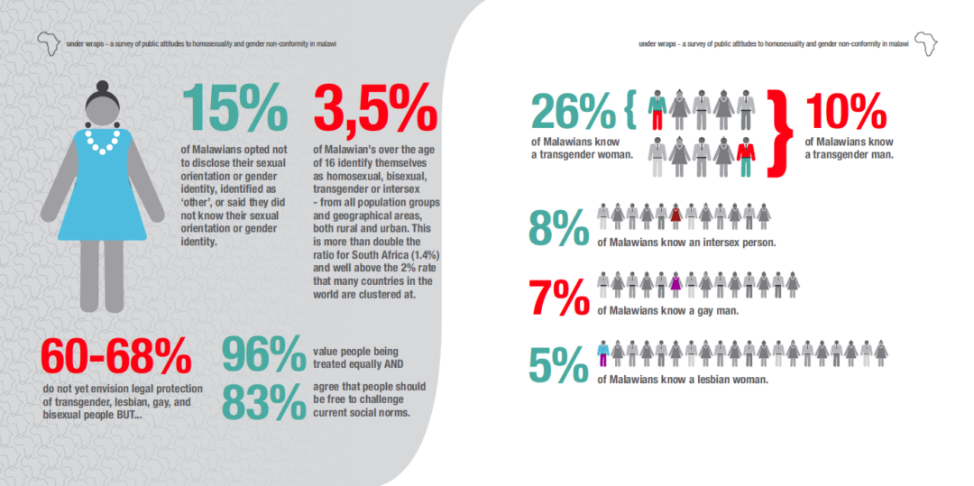 We found that Malawi has 186,000 persons who do not conform to gender and sexual non-conformity, thus representing 3.5 percent of the population. To put into perspective, according to the 2018 national population census, there are more LGBTQI+ persons in Malawi than the populations of Mwanza (130,949), Neno (138,291) or Zomba city (105,013). Alternatively, they are more than 10 times the population of Likoma (14,527).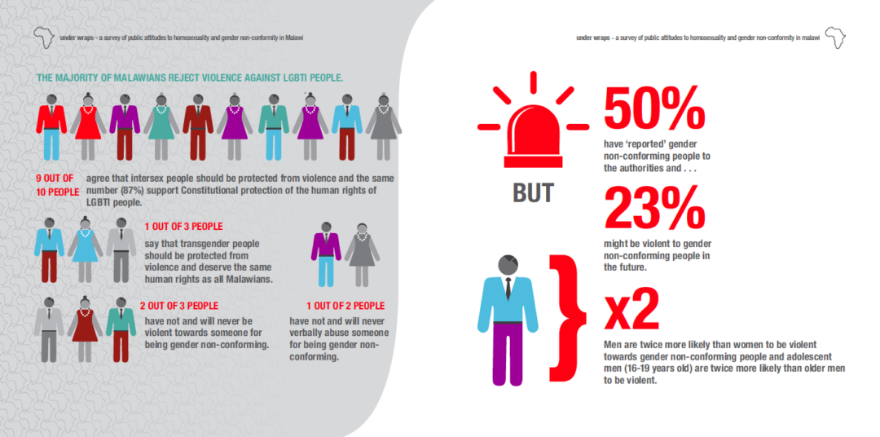 We found that 80% of Malawians believe that homosexuality is wrong and 23% might be violent towards LGBTQI+ people in future. We also found that close to 9 out of 10 Malawians agree that LGBTQI+ persons should be protected by the Constitution.
These are only two findings from the report, but they tell us that the LGBTQI+ population is significant enough for us not to ignore if we are to attain the cardinal Sustainable Development Goal Principle "Leave no one behind". It also told us what we have not  fully grasped the views or wishes of Malawians until now: they have diverse views about homosexuality and LGBTQI+ rights, and in some cases they are more tolerant than we assume.
This timely and ground-breaking study fills an important evidence gap to challenge the assumptions about what Malawians really think about homosexuality and LGBTQI+ rights. It thus opens up a renewed research agenda with potential to inform evidence-based policies and laws, as well as constructive social inclusion. Importantly, it clarifies on the misinformation that has so far sustained homophobic rhetoric."
Alan Msosa